I have some BIG news I'm celebrating. On Monday it was announced that, along with three other amazing ladies, I will be writing a romantic suspense in the "world" of author Lisa Phillip's Last Chance County. 

That's right - I've signed a contract to be published!!! Click the button below to read the official post on Sunrise Publishing's website!
And, while I'm making all these new changes to my life (and my pen name - but that's another post) I thought: why not start another blog?
So welcome to the blog!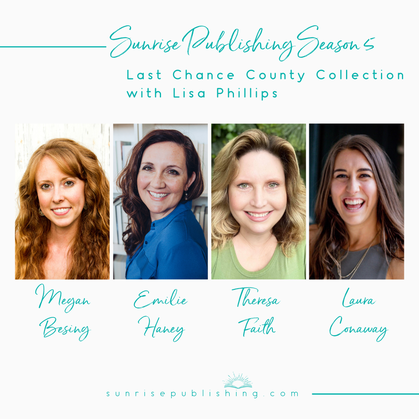 If you know me well at all you may not be surprised that I'm taking on yet another task (aka: another blog) but I love the fact that I can utilize this space right here on my website to share my writing life, book news, and personal life things. I do have another blog you can check out here but this blog will be more focused on my writing as Emilie Haney (and in small part Bell Renshaw) where as that blog has been dedicated to book  & product reviews, rambling thoughts, and the occasional life update. 
I want this blog to be a place I go to when I want to update you all on what I'm working on, on big life changes, or sharing exciting things. You know what? I still like to write letters when I can - yep, handwritten and everything. I think I'll see this blog as that. Kind of like you readers are my pen-pals. 
As my good friend (and podcast co-host and fellow Sunrise author) Christen Krumm said, I do need to work on being consistent here, which is something I'll strive for. But more than that, I want to be honest.
And to that though, I've got to write...A Picture of Christmas (Winter, Montana 4) won't write itself.